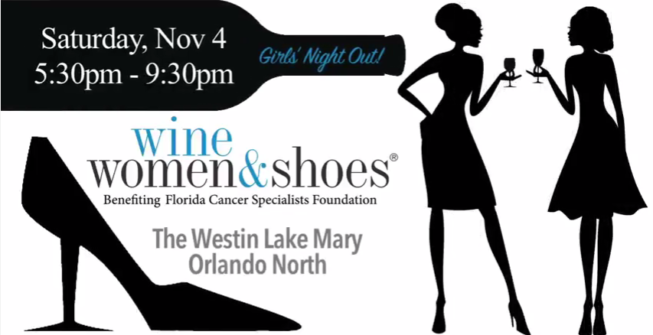 ADASure co-sponsors cancer charity event
The recent Wine, Women & Shoes charity event, benefitting the Florida Cancer Specialists Foundation, was an opportunity for ADASure to contribute to a great cause in the community. More than just a standard networking event, Wine, Women & Shoes functions offer companies like ADASure the chance to provide real support for an organization that does tremendous work and helps people right here in central Florida. Michael McCaffrey served as one of the committee members for this particular event, and even helped secure additional sponsors.
The specific work that Florida Cancer Specialists Foundation does is of great importance to all of us here at ADASure. Specifically, they provide resources and support for the non-medical costs associated with cancer treatment. Above and beyond the expenses associated with any significant medical procedure, the bills at home and the costs for recovery care, family support, travel, and more are a substantial burden for most people. Since their founding in 2011, Florida Cancer Specialists Foundation has awarded more than $3.5 million in need-based grants to patients so that they could focus on treatment, recovery, and victory in the fight against cancer.
Florida Cancer Specialists Foundation is just one of the charities throughout the U.S. and Canada supported through Wine, Women & Shoes events. Their ability to plan and organize fundraising events like these is well proven, with more than 300 such events held and dozens of charities helped through gifts, purchases, and donations made at their functions.
ADASure is honored to support Florida Cancer Specialists Foundation in their tremendous work for the cancer community. Our efforts to help the impaired and disabled are just one of the causes we stand behind, and we look forward to offering further support at events like these in the future.
#A11y #ADA #Compliance #Disabled #Website #TitleIII #Section508 #WCAG2